AEA Thrissur - Profile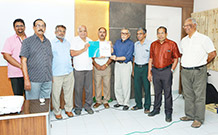 Architects & Engineers Assn. was established in 1989 and registered under the Travancore-Cochin Literary Scientific Charitable Societies Registration Act XII of 1955 with Register No. 208 dt.29-03-1989.
AEA is a body of practising graduate Engineers and Architects, including Retired Engineers of Central Govt., State Govt., Engg. Colleges, Defence, and other Institutions in India. The registered office of the Assn. is functioning in our own building at Kokkalai , Thrissur. A Technical Library is also housed in this bldg. Our Assn. is working with an objective to uphold and ensure the dignity and prestige of Technocrats in general and Architects & Engineers in particular so as to have their legitimate role in the Nation Building Activity.
Architects & Engineers of the Society play an important role in bringing the fruits of Science and Technology to the doorsteps of common man, thus by enhancing the quality of life of the people in the society. The Assn. is a Forum of Engineers & Architects to discuss vital topics and evolve newer domains and concepts, exchange information, update knowledge and arouse a sense of responsibility in their professional work and commitments to the social objectives of the profession.
Our activities varies from conducting monthly Technical Seminars, Awareness programmes, TRIPEX - product Exhibitions, Consultations for the Infrastructural development of Thrissur. We also observe National and International Days of importance like World Environment Day, Engineers Day, World Habitat Day with public meetings and discussions by inviting distinguished personalities of the society. We also enjoy our Foundation Day on 23rd November every year and also the New Year Day. All our meetings are with the family members except the Annual General Body meeting of May. The Charity part of our Assn. is by providing student Aid Fund to the needy student of GOVT. ENGG. COLLEGE, Thrissur every alternate year for the whole course of the student selected and also student Merit Awards for the Best students of Engg. in 8 branches selected from the Engg. colleges of Thrissur District every year during our Engineers Day programme. These routine Technical Seminars and National programmes of the Assn. gives an opportunity to the Engineers & Architects , esp. the budding Engineers to listen to veterans narrating their experiences in tackling various Engg. problems during their professional career.
The Assn. provides opportunities for the private practicing graduate Architects & Engineers of the society to become the Life Members of the Assn. The prescribed Application Format filled up and duly introduced by an existing Member accompanied by a Fee of Rs.10100/- (including Rs.100/- for registration fees) enables the person to enjoy the benefit by becoming a Life Member of this prestigious Organisation. Hence to survive and remain competitive at the Global Front ,our goods and services offered should be of high quality ,reliable, ecofriendly and cost effective. For that we have to supply properly educated, trained, and quality Engineering Man Power to the society.
Please enjoy the Rights and privileges of being a Member of ARCHITECTS & ENGINEERS ASSOCIATION.