Welcome To Architects & Engineers Association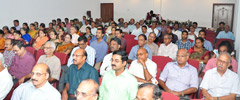 Architects & Engineers Assn. was established in 1989 and registered under the Travancore-Cochin Literary Scientific Charitable Societies Registration Act XII of 1955 with Register No. 208 dt.29-03-1989.

AEA is a body of practising graduate Engineers and Architects, including Retired Engineers of Central Govt., State Govt., Engg. Colleges, Defence, and other Institutions in India. The registered office of the Assn. is functioning in our own building at Kokkalai , Thrissur. A Technical Library is also housed in this bldg. Our Assn. is working with an objective to uphold and ensure the dignity and prestige of Technocrats in general and Architects & Engineers in particular so as to have their legitimate role in the Nation Building Activity. Architects & Engineers of the Society play an important role in bringing the fruits of Science and Technology to the doorsteps of common man, thus by enhancing the quality of life of the people in the society.